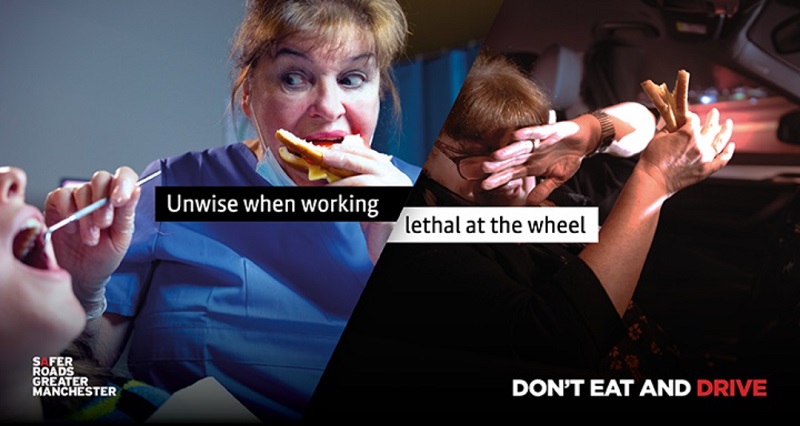 A 'thought-provoking' campaign is encouraging motorists in Greater Manchester to stay focused while on the road by avoiding distractions.
Devised by Safer Roads Greater Manchester, Mindless Moments warns of the dangers of becoming distracted while driving or riding, which is a significant cause of road collisions.
Figures show that between 2017 and 2021, 'distractions in vehicle' contributed to 1,104 road collisions in the north west of England.
'Distractions outside vehicle' contributed to 442 incidents, while 'driver using mobile phone' contributed to 134 collisions over the same period.
From glancing at a mobile phone to letting your mind wander, Safer Roads Greater Manchester says the smallest distractions can make motorists slow to recognise and react to dangers on the road.
A series of short films released as part of the campaign turns this crucial messaging on its head by asking motorists to imagine the consequences of losing concentration in everyday scenarios.
The videos show a dentist eating a sandwich while inspecting a patient's mouth, a goalkeeper getting hit in the face by a football while checking his phone, two cinemagoers getting carried away by conversation, and a barber drifting off and taking a bit too much off the top of a customer's head.
At the end of each video the scenario is transported back to the road and shows a motorist losing concentration at a critical moment, reinforcing the safety messaging at the heart of Mindless Moments.
Peter Boulton, TfGM's head of highways, said: "It doesn't take much to become distracted when you're driving, and one mindless moment can have potentially disastrous consequences, including serious injury or death.
"Drivers have a legal and moral responsibility to ensure that they minimise the potential for distraction when driving.
"I'd urge all drivers, whether you've just passed your test or have been driving for years, to watch these videos. There are so many potential distractions when driving and therefore vital that drivers take time to ensure they are safe behind the wheel."
The campaign promotes a few small changes which can help drivers and riders get ready for their journey ahead, stay focused, and get to their destination safely:
Put your phone away, in the glovebox or your bag. Using a hand-held phone while driving could lead to a £200 fine, six points on your licence and loss of licence if you're a new driver within two years

Don't eat, drink, smoke or vape on the move

Clear out any clutter, such as empty bottles or cans, which can distract you and could even get in the way of your pedals

Ask passengers to help with directions or change the radio station

Avoid riding when overtired, stressed, or not able to give your full attention

If you're feeling tired, pull over safely until you feel more awake

If you're finding the drive difficult, ask passengers to keep conversation to a minimum
Supt Gareth Parkin, of GMP's Transport Unit, said: "Unfortunately, we know all too well the devastation that distraction can cause behind the wheel. 
"It only takes a moment to become distracted from the road and the consequences can be life-changing. Our priority is to prevent people being killed and injured on our roads, but we really need your help to achieve this. 
"As a driver, it is incredibly important that we give the roads our full attention. Whether it is checking your phone, changing the music or letting our minds wander, these distracting moments could prevent you from spotting a dangerous hazard ahead.  
"As a passenger we also have the responsibility not to distract drivers. If you think the driver is struggling, suggest pulling over at a safe place to get some fresh air."
---
01 February 2023