As the popularity of riding in Greater Manchester has increased, so has, sadly, the number of motorbike thefts.
Scooters, mopeds and smaller engine motorbikes are particularly vulnerable to theft – after all, they are light and easy to lift and put in a van or pick-up without the rest of the public thinking anything is amiss.
A study, carried out by BikerRated.com from data collected by bikersunited.co.uk (the UK's stolen motorcycle database), found that UK motorcycle thefts have increased by 50% over the last five years.
In terms of thefts per resident, Greater Manchester ranks 13th in the worst areas for motorcycle crime.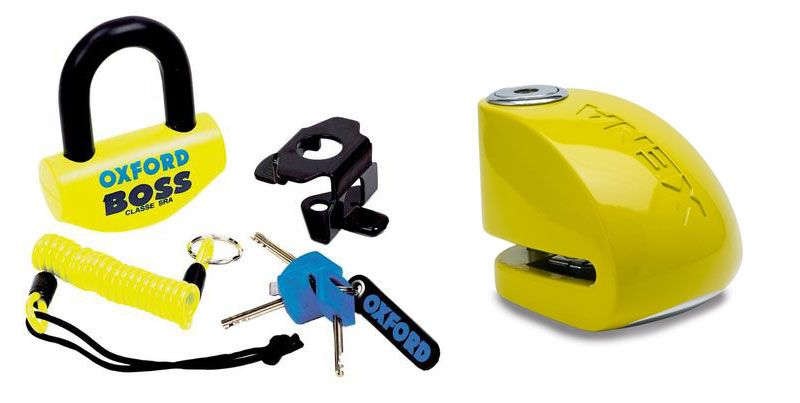 Above: Various types of 'disc locks' are available
To combat this surge in thefts, there are some simple tips to follow.
If you have to leave your bike or scooter out overnight, make sure it is parked in a well-lit area, preferably on a busy stretch of road where a thief cannot work undisturbed. Covering your bike or scooter can deter a thief.
Greater Manchester has numerous secure motorcycle parking areas. Find out where these are in your area, or alternatively tether your bike to items fixed to the ground such as a security loop, stand, lamp or a signpost.
If you live in a flat with parking, find out if there are bike bays.
If you ride to work, ask your employer to park in the secure car park or in sight of any CCTV.
Buy a solid bike chain to tether your bike to a security post, and add a disc lock or chain lock for added security.
Disc locks - which lock onto the front or rear brake disc - make it impossible for the bike to be ridden off. However, they don't prevent the thief from picking it up and dropping it into a van or lorry, which is why you need both a strong, steel bike security chain and a disc lock.
More than one lock makes it harder, and use brightly coloured locks so the would-be thief can see them.
Never leave anything valuable in the under-seat storage compartment or panniers.
Having an insurance approved combined alarm and immobiliser would deter most thieves. A quality Thatcham approved, professionally fitted alarm system will not only put off even the most determined thief, but could also reduce your insurance premiums. It's always worth paying the extra for a manufacturer-fitted motorcycle alarm, or motor bike alarms fitted by a factory trained technician.
Don't forget to security mark your bike. Try to mark parts of your motorcycle with your VIN (vehicle identification number), vehicle registration and postcode. This can be done with a simple UV pen from your local DIY store. Alternatively, you can use using one of the more sophisticated systems such as Datatag, Alpha Dot or Smartwater, which will also put off thieves and help trace your motorcycle or scooter if it is stolen.