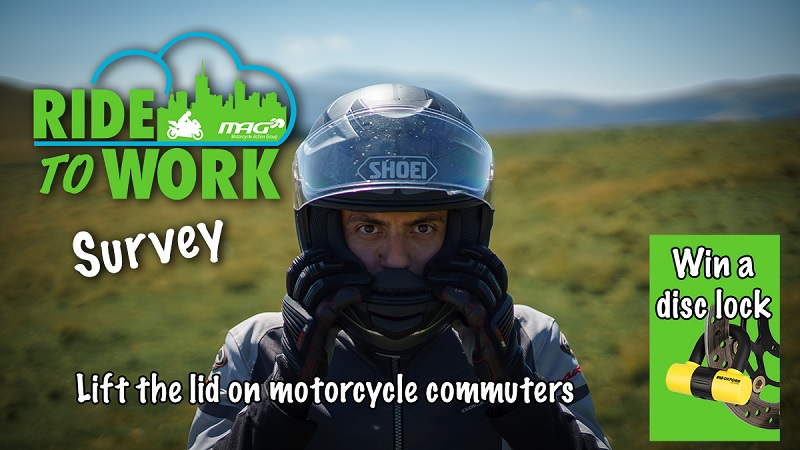 In the build up to Ride to Work Day 2021, the Motorcycle Action Group (MAG) is running a survey to find out more about who commutes to work on motorcycles and scooters.
MAG says establishing facts about the demographics of motorcycle and scooter commuters is vital – but adds that Department for Transport (DfT) National Travel Survey statistics are 'vague'.
MAG is determined to 'enrich understanding' of what type of person rides to work – and is calling on those who do so to complete a short survey.
Those who do will be entered into a prize draw to win a disc lock.
Colin Brown, MAG's director of campaigns and political engagement, said: "We know that wearing riding gear creates anonymity for riders. When other road users see us riding to work, they often assume we are all young and male.
"I am sure that there is a diverse group of riders sharing the commute with me. Riding to work is a great choice whether you are young or old, rich or poor. So we want to check that no one is being left out.
"Knowing who rides to work – and why – is key to promoting the choice of riding to work. Motorcycles and scooters are too often overlooked as an option for the daily commute.
"There is an opportunity to get a greater proportion of commuters out of cars and onto two wheels. That would be a positive outcome for everyone as it reduces congestion and emissions and gets more people smiling on a Monday morning."
2Wheels Greater Manchester is working in partnership with MAG to provide businesses and supporters in London with the resources to promote Ride to Work Day.
The international Ride To Work Day campaign marks its 30th birthday this year and UK promoters of the campaign, MAG, are using the opportunity to showcase the fun side of riding a motorcycle or scooter.
Ride To Work Day 2021 takes place on Monday 21 June.
To help with the promotion of the event, 2Wheels Greater Manchester has received from MAG a series of posters, with 2Wheels Manchester branding, which are free to download.
Click here to download the suite of posters.
---
09 June 2021