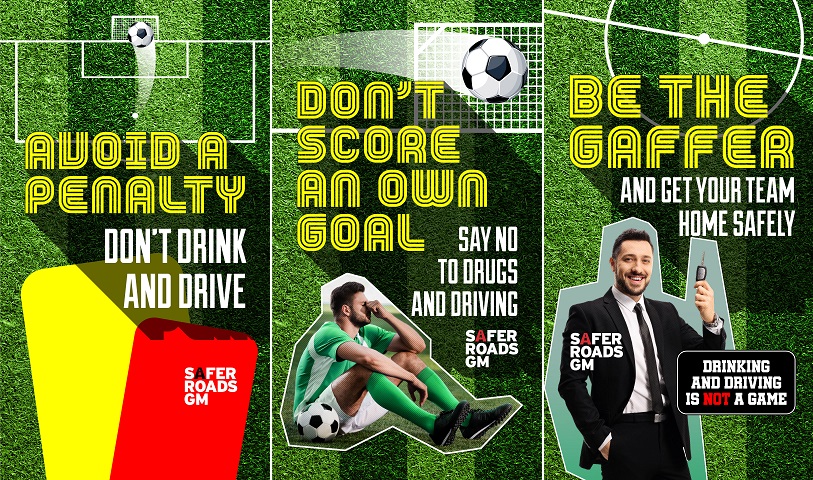 Football fans in Greater Manchester are being urged to think before they drink and avoid getting on their bike after consuming alcohol or taking drugs while watching the World Cup this winter.
It's Not a Game, a new campaign by Safer Roads Greater Manchester (SRGM), warns of the consequences of drink and drug riding throughout the tournament and during domestic fixtures over Christmas.
Thousands of people across the region are expected to gather over drinks to watch the games being played at the World Cup in Qatar, where the English and Welsh national teams are competing.
SRGM is partnering with Road to Victory, Europe's largest World Cup fan park, to formally launch the campaign during the screening of the England v Iran at Depot Mayfield in Manchester today (21 Nov).
Fans will get to take part in games while wearing alcohol impairment goggles to simulate the effects of alcohol consumption and drug impairment on the body, while a number of non-alcohol drinks will be available for any designated drivers planning to enjoy the football at the venue.
A 30-second radio advert, produced by Bauer Media, will help deliver campaign messaging through the recognisable voice of a football commentator during the event and over the coming weeks.
Beer mats and posters carrying the It's Not a Game messaging will also be made available to venues wanting to encourage fans to stay alcohol and drug-free if driving/riding and to advise people planning to drink to use other forms of transport to get home safely.
David Norris, from Road to Victory/AIX Live, said: "We are really excited to welcome thousands of passionate football fans to experience the incredible atmosphere at Road to Victory over the coming weeks.
"While we want people to enjoy the experience, we know we have a duty to help people make the right choice when it comes to avoiding alcohol and drugs if they plan on driving home.
"If you're planning on having a drink at our venue, please ensure you don't drink and drive to avoid the potentially serious consequences of doing so."
During the 2018 World Cup held between 14 June and 15 July, a total of 256 arrests were made by Greater Manchester Police (GMP) for drink and drug driving offences – the highest number of arrests over the same period between 2017 and 2021.
This figure has been surpassed in 2022, when there were 348 arrests in the same period.
The staging of this year's tournament World Cup during winter also means the finals coincide with the last weekend before Christmas, which is one of the busiest times of the year for drink/drug driving arrests.
In 2021 the most arrests for drink and drug driving offences were made in December. During the last weekend before Christmas made 36 arrests.
Supt Gareth Parkin, GMP's Transport Unit, said: "Drink driving can have devastating consequences and while we don't want to discourage people from enjoying the football; we do want to ensure lives are not put at risk."
---
21 November 2022