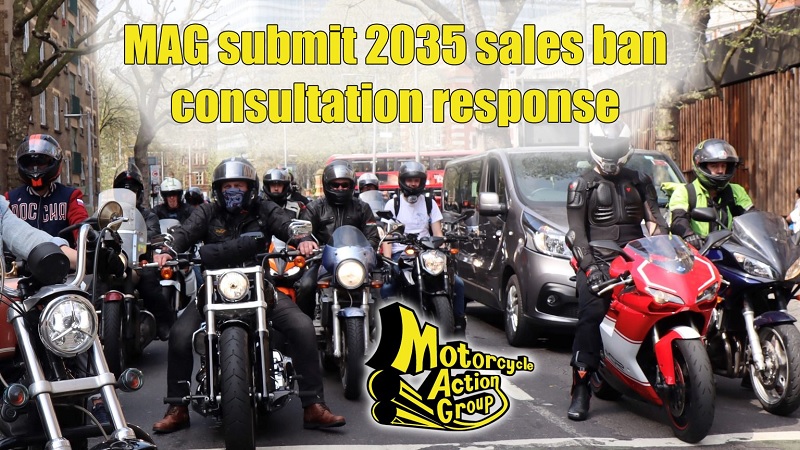 Two of the motorcycle industry's leading voices continue to express strong opposition towards Government plans to end the sale of all new fossil-fuelled motorbikes and mopeds by 2035.
The plans, first announced in July, are part of efforts to accelerate the transition to zero emission vehicles.
They also include a 2030 cut off date for certain classes of powered two-wheelers (PTWs).
Responding to a public consultation, which closed on 21 Sept, the Motorcycle Action Group (MAG) says while it does not oppose decarbonisation, the Government's policy choices are "blinkered, economically poor and are being carried out at a pace that lacks sufficient balance between justification and cost".
MAG adds that it is keen to work with the Government to "achieve decarbonisation in a measured, evidence-based and economically responsible manner".
Neil Liversidge, MAG chair, said: "Governments do not have the ability to predict the future and should not seek to limit innovation and creativity in solving the problems that we all face.
"We have openly stated a willingness to work with the Government on reducing the environmental impacts of transport.
"The proposed enforced end of fossil-fuelled internal combustion engine vehicles on this, or any other, timescale is not the way to get to the best outcomes. The justification for the focus on zero tailpipe emissions is highly questionable, and the ridiculously short schedule is unnecessary.
"The outcomes will be economically and socially catastrophic. The benefits will be too small to measure. We shall not stand by and allow this policy to go unchallenged."
Taking a similar stance, the National Motorcyclists Council (NMC) is urging the Government to 'rethink its strategy' – adding that it does not support 'arbitrary UK-only targets'.
The NMC believes that the UK should instead move towards net-zero goals on the basis of internationally agreed targets and strategies, working with both motorcycle riders and the industry to develop an approach in line with Liz Truss' view that Government policy should "… ensure we deliver net zero by 2050 in a way that is pro-business and pro-growth".
Craig Carey-Clinch, NMC executive director, said: "Successful transition in any field requires those affected to be content with changes proposed.
"Although riders are willing to try new technologies, if products don't meet their needs, the market will be severely impacted. Therefore, it is clear that a different regulatory approach will be needed which recognises where electrification works for the market and where it currently poses challenges which cannot be ignored.
"The Government should show more ambition in this area. Net zero should not mean the end of the internal combustion engine, but instead we should be looking towards a 'mixed economy' of battery electric, clean ICE fuels and other types of technology, with current motorcycle types properly recognised from now as a lower Co2 transport choice.
"Innovation should be encouraged and not restricted to narrow pathways."
---
22 September 2022