By Lembit Öpik, MAG's Director of Communications and Public Affairs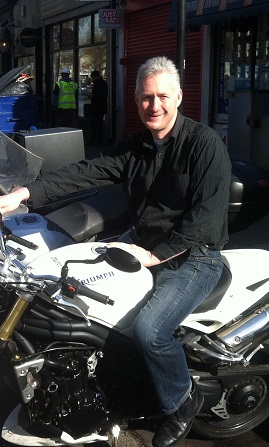 MAG's Director of Communications and Public Affairs, Lembit Öpik, reports on what he calls 'Britain's most effective transport committee.'
I've been to thousands of different meetings, down the years, and often I've found that official Government-type meetings aren't all that useful. There's one which absolutely stands apart as an exemplar of effectiveness. Every few months I have to go up to Manchester to attend a meeting at Highways England (H.E.). This is for their National Motorcycle Working Group.
The aim of this working group is to ensure that we have the interests of the riding community included in Highways England's activities. This extends to everything from road surface to signage. Highways England really do want to create the most suitable road environment for all users, and it's a delightfully refreshing change to be valued on equal terms to other vehicle operators. In fact, it's so good I always look forward to these meetings because we make significant progress at each one. Here's quick summary of some of the main items we covered this time round.
We spent quite a bit of time discussing road surfaces. To quote Amanda Lowe from Highways England, 'you wanted better road surfaces and we established the Infrastructure Working Group to address these issues, focussing on road surfaces and friction.' I was also on that sub-group and we really did get into the detail. It turns out that 17% of respondents to a recent survey by Highways England cited potholes, decaying road surfaces and gravel in the middle of the roads as being a problem for riders on what's called the 'strategic' road network – the big roads like some dual carriageways and motorways, but usually not roads in towns which don't tend to come under Highways England's responsibility. To resolve the problem, Highways England has signed a £3.3bn deal with contractors across England to respond more quickly to resurfacing. The deal actually does also involve local authorities, resulting in greater collaboration and fewer potholes. H.E. is also taking on the issues of polished drain covers and 'spray patching' – both of which are dangerous to motorcycles.
Design elements are often part of the solution. Better signage and lighting were cited as potential opportunities for improvement. For example, the group recognised that there is a serious risk posed by impact with road sign structures. H.E. has offered to invest in bike guards for signage, and consider improved positioning, as well as additional street lighting. H.E. also object to electronic billboards which advertise products next to the road. They don't allow them on their land. It's refreshing to see the authority resist the temptation for generating revenue at the cost of safety.
Road works are also a safety issue. It is claimed that 'smart' motorways reduce congestion and this is a significant investment they are making. I've personally had my doubts about 'smart' technology, but such is my faith in Highways England that I'm prepared to believe they have grounds to claim that they benefit road users. They also spoke about an App which gives live traffic information. Whether that can easily be used on two wheels is an interesting unknown.
Inevitably, discussion gravitated to considerations around crash barriers – a number of types of which are not motorcycle friendly. The hated 'armadillos' and 'orcas' – lumps of stuff bolted to the ground which are meant to segregate traffic but which really form a trip hazard for everyone, were slammed by the bikers on the committee. The good news is that there are none of the obstructions on the strategic road network - and we have been assured there never will be.
Conversation also moved to considering better bike parking signage at service stations, to stop cars hitting bikes when they think it's an empty space. Ground anchors or metal loops to deter the scourge of bike theft are also on the agenda, with the specifics yet to be pinned down.
One of the most revealing aspects of the presentations was Highways England's discoveries regarding what causes accidents. Some of this made for uncomfortable reading. The behaviour of other road users was regarded as a key cause of serious accidents, together with poor indications by other drivers, distractions such as mobile phones and sat navs, fatigue, speed and undertaking.
'Tail-gating' was also highlighted, and is such a big concern to the authorities that Highways England have sponsored a television advertisement called 'Don't be a Space Invader,' which depicts the video game character of the same name getting too close to the car in front. In my opinion it's a rather good advert, and certainly stays in your mind after you've seen it. Highways England seem to have cracked the balance between being educational without being patronising, as a campaign warning younger riders to take their safety responsibilities to themselves seriously. It has to be said that, contained within the figures, there was clear evidence that a significant proportion of riders are responsible for their own demise. Like it or not, those returning to riding after many years away are particularly at risk of this. The 'Born Again Bikers' are one target group for the safety campaigns which do need particular consideration regarding how best their outlook or behaviour is best engaged with.
As is often the case, the Bikesafe campaign was mentioned and, as usual, resources are the issue. It's run by police for post-test assessment to 'up-skill' existing riders, and is voluntary. Apparently, 10 Ducati motorbikes were purchased and branded with Bikesafe livery. The police then ride them around, using them as an engagement tool.' Nice work if you can get it.
Good old diesel spills were also featured in the meeting. Let's be honest. Highways England can't really stop plonkers over-filling their fuel tanks, but at least they're aware of them. I expect MAG will have to take a big lead on this, though it is possible some joint promotion of the issue could be on the cards.
We also had time to talk about a few other looming matters. Anna Zee, formerly from the BMF and now head of FEMA which brings together riders' rights groups from around the EU., announced she's on a group looking at 'platooning' – which means electronically connecting lines of vehicles so they can travel close together more efficiently and with fewer drivers. This is part of the rather shaky autonomous vehicles sector, which has some way to go before its safety and usability become convincing. Apparently, there'll be a test somewhere in the UK. It needs 100 miles or more of road and maybe they'll find a place soon maybe they won't.
And then there's the question of 'Vision Zero,' a ludicrous intention to eliminate ALL road deaths by a certain date. It's simply not realistic, and those who claim it's possible are the same sort of fanatics who wish to ban powered vehicles and make us all walk and cycle - even though, regrettably, cyclists experience lots of self-imposed fatalities.
All in all, this was one highly effective day with a team from Highways England who really know their stuff. Amazingly, the Mayor of Manchester, Andy Burnham, has sought to blame Highways England for the congestion in Manchester. I just don't believe it. Highways England keep the roads moving as best they can. It's one organisation I'm willing to defend publicly as very talented and on top of their brief. Thy shouldn't just be running the Strategic Road Network. They should be running the country.